Why I'm Launching a Trading Signal Service
Why I'm Launching a Trading Signal Service
Traders want to make consistent profits. There's no easier way to achieve it than copying the trades of a proven trading system. The trading signal service I'm launching arose from the needs of many traders.
Matt Hagemann

Trading Strategy
If you've been following my posts for a while you probably remember that I started a Discord server several months ago.
Based on what people shared, I realized that a lot of newbie traders start off scalping tiny wiggles and end up licking their wounds one after another. I keep saying that day trading is a fetish and a dangerous allure.
In the community, I ensured that day trading was strictly forbidden because we all wanted to focus on following the big trends — making the big money if you will.
Instill My High-Profit Trading Mindset
It served as a refuge for newbie traders who got hurt by day trading 'gurus'. They are spineless marketers for which I have little respect. I was shocked that so many fall prey to their unethical scams.

A whole mindset shift is required for high-profit trading. Following the big trends can be mind-blowing if you've been chanting the day trading mantra all day long, but it will become the most obvious thing to do. You trade stress-free, with far less effort and make far more money with the big trends. Day trading simply doesn't work.

Once traders witnessed my trading results live and saw what kind of profits I make, people got quite interested in my trend following system and asked how they could trade certain market scenarios.

I went ahead and uploaded a detailed charting setup guide that served as a blueprint for everyone. I received direct messages asking how to trade based off that blueprint, and how to use this or that tool.
Nevertheless, it was still difficult to grasp the entirety of my trend following system. It was such a novel approach to them. After all, it's the result of years of my own trial and error and you can't simply replicate that swiftly. I had to provide individual guidance. Without realizing, I somehow morphed into a trading mentor.
Share Trading Recommendations Live
We chatted both privately and publicly which allowed me to explain my actions step by step. We discussed the price action in real-time and I pointed out where to take trades to instill hands-on knowledge.
For example, I posted a short signal on February 25: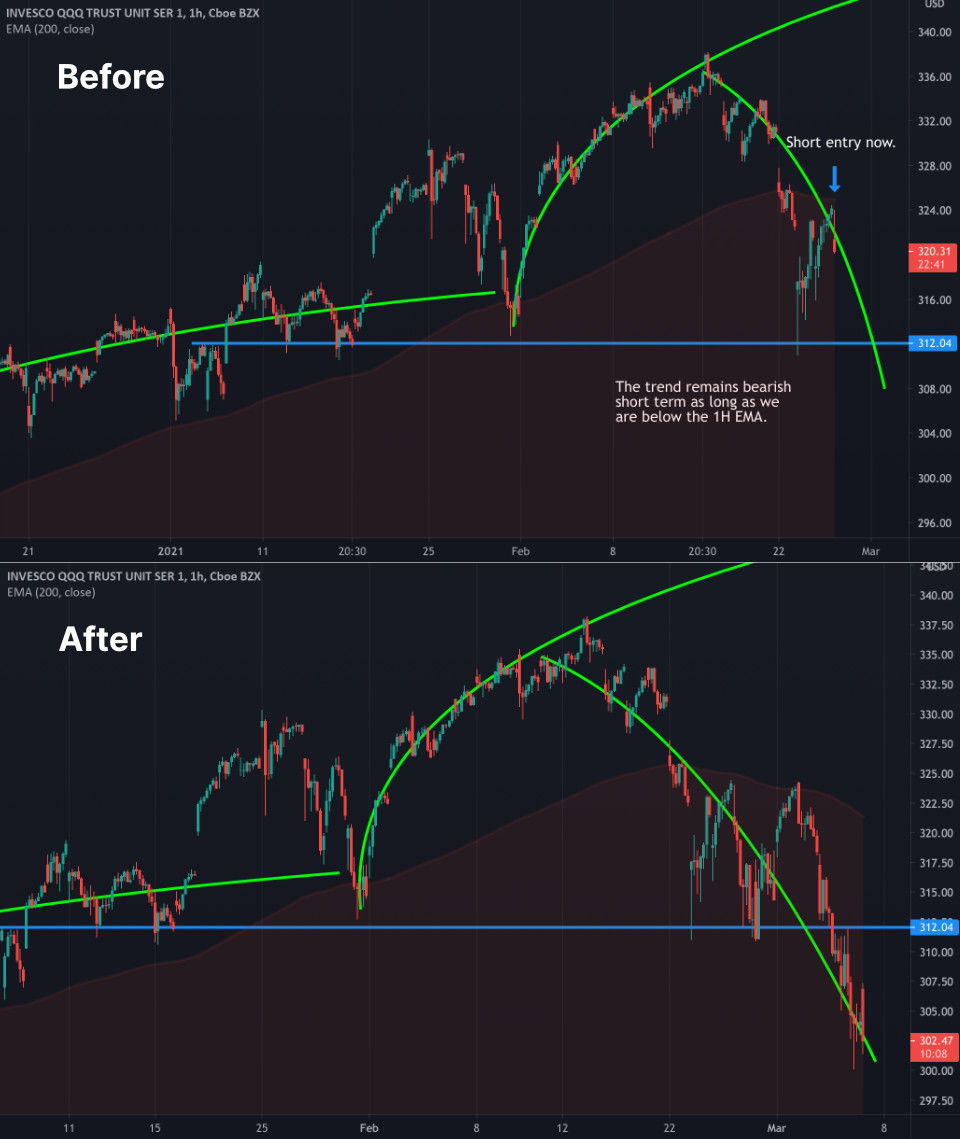 We profited together and I improved the trading system further. Long story short, it was a lot of work but we had a blast. Those who trusted my trading system and followed its trades, made handsome profits.
To be transparent with the community I regularly shared my own trading results. Here's what I had made from the above short signal:

Democratize a High-Profit Trading Mindset
While nurturing the community on Discord, I also worked on a new website where you could receive my trades live and copy them immediately. I want to democratize the high-profit trading mindset of mine and let anyone succeed in trading — without effort at all.
Some of you may not even be interested in learning my trading system but would rather just copy my trades. You can skip the learning curve altogether. If it's technically possible, why not let more people succeed financially?
That's my idea behind launching a new trading signal service, called NQ Signal. It trades the E-mini NASDAQ 100 (NQ) and it's the only one out there that focuses on multi-week to multi-month trends. It's backtested and the track record is proven.
If you want to get rid of the day trading and scalping non-sense and ride the big trends, NQ Signal is a trading signal service you should check out.
I've worked on a special charting setup that will give you immediate insights as to which way you should trade. It's super simple to configure and I have a step-by-step guide ready for you. Share your email address and I'll send it over.
Author Bio
Matt's career spans over a series of financial institutions. Trend following became a focus topic when he studied Business Administration and wrote his senior thesis on "The Psychology of Financial Markets". He is portfolio manager of a high-conviction investment vehicle.